Gear Reviews
5.10 Tennie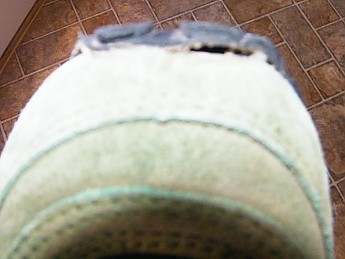 The Approach Tennie is made of leather with some nylon mesh for breathability. The split-grain is supposed to repel dirt and mud, but apparently it does not repel sand. There are a couple shortcomings with this shoe, but stealth C4 rubber soles are still the best traction, in my opinion, that money can buy. The shoe is pretty comfortable, but you need to order a ½ size up as they run a little small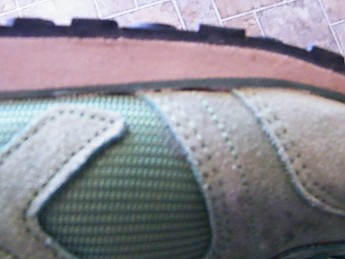 I was pretty excited to try out these Approach Tennie's even though I had a few doubts about the little rubber piece on the toe. Retail price is $109 I found them on sale for $32 so I was not that put out when they started falling apart after less than a month's use. I wore them maybe 10 times. I have run a couple mile long trails, scrambled up a few sandstone cliffs and boulders in Zion. I even crossed the river in them a few times.
As you can see from the picture the rubber on the toe has started to peel and the sole is starting to separate in a few spots.
Pros
Cons:
Contour Camera
The image quality of this camera is comparable too and possibly even better than what you would get from other 1080P video cameras. I liked the camera, but have a bad taste in my mouth about the company due to their lack of customer service skills.
I got my Contour camera as a Valentine's gift from my wife almost 2 years ago. I had spent a great deal of time debating whether to get a GoPro or a Contour. I found a sweet deal on a Contour that had been used as a display at a retailer. So that became one of the deciding factor on the purchase.
Before I get too involved in this review I just want to clarify that I was unaware of the condition of the camera before I received it. I'm not sure if it was used, refurbished, or if it truly was taken out of the box and put in a display case.
Right off the bat I was a little disappointed with the battery life, it would last about one and a half hours before needing to be charged. I bought a couple knockoff brand batteries from Amazon which might have been a bad decision as I am currently trying to figure out if the batteries are bad or if the wiring inside the camera is loose, because I am unable to get the batteries to recharge. The original Contour battery that came with the camera quit holding a charge after 8 months of use.
The video quality was definitely comparable to my friends' GoPros. Some of videos I shot, I thought the quality was a lot better than GoPros. I used this camera on backcountry ski expeditions, snowshoe treks, canyoneering, mountain biking and hiking trips. My daughter even stole it a couple times to make videos of tea parties and songs/dances she came up with.
I bought a helmet attachment which was basically a circular plate with adhesive tape you could stick to your helmet. I must have mounted it a little too far back on my helmet because I always ended up with footage of my helmet. Once you mount this helmet disk it cannot be removed, so you have to buy several of these disks and mount them in different locations on your helmet, dashboard, snowboard, etc... From watching my friends use their camera accessories, the suction cup method seems a better solution for an attachment.
Besides my current battery issue the only other problem is with the battery cover. The cover is held on by 2 rubber "clips" that slide inside the camera body. One of the rubber attachments broke after a year of use and would cause the cover to not seal properly. Since the company was out of business I was unable to send it in for repairs. Due to that, I just cut the two attachment points off and was just very careful not to lose the cover while charging batteries.
A few things I really enjoy about Contour besides the picture quality are the laser. You know where you are shooting due to the lasers and you also know your camera is on. I always love watching the YouTube videos of people with their GoPro in their face saying "is this thing on?" I'm glad I don't have that problem. I also enjoy that the camera lens can be rotated, this way you can lay the camera on its side and not have a sideways or upside down video.
The downside to Contour is their customer service. I recently ordered a new battery and charger, but the issue turned out to be the camera not the battery. I sent the battery, charger and camera back to contour. A month later I still had not received my refund or heard any news about my camera. I wrote customer service and they could not find the package. They tried to put the ball in my court for them not receiving the package. Long story short I finally received the refund on the battery and charger after many e-mails, but received no word on the issue with my camera. A couple weeks later I wrote again and asked what the issue was with my camera they replied It cannot be fixed. They did not ask if I wanted the camera back or if they should throw it away.
I would think that a company would want to keep loyal customers, but that does not seem to be the case with contour. Their customer service skills make me wonder why they went out of business the first time. A simple e-mail or phone call to let me know the condition of my camera would have been a nice gesture. A customer should not have to repeatedly bother a company over a two month period to get a refund and find out if their camera is worth fixing.....Blah, Blah, Blah, I'm buying a GoPro
Pros:
Image quality

Easy usage

Sound quality

Sturdy outer construction
Cons:
Accessories use adhesive instead of suction

Flimsy battery cover

Battery life

Horrible Customer Service
Hi-Tec Hard Rain Shell
When I was a child, my parents would always buy me Hi-Tec shoes and boots, because we were poor and their shoes were affordable. I have memories of kids in school making fun of me for wearing Hi-Tec. Most of the kids in my scout troop had the same dilemma, so when I won a Hi-Tec Hard Rainshell jacket last year I had some mixed emotions. It looked like a well-built jacket, but even though I am older now I thought if I wear this will I be ostracized by my peers?
I decided to try the jacket out at home to see if I could justify wearing it. The Jacket is super comfortable and light weight I dare say it is even very stylish and well put together. This Jacket is made of 100% polyester rip stop. The chest pocket is laser cut with a welded waterproof zipper. It has under arm vents and draw cords for the face, head and waist. It even packs down into a pocket making it easy for stuffing in your backpack.
I tried 3 times to test this jacket in the rain, every time I would put it on the rain would stop (you got to love Utah weather) I decided to jump in the shower and test it. Not one drop of water got through and the water just beaded right off. This jacket quickly became my go to jacket for wind and rain, I even convinced a few friends to buy one.
Over the winter I used this as my hard-shell over my Mountain Hardware Kelvinator for a few ski trips and several snowshoe trips. I went through trees and nothing ever ripped and I experienced 40mph winds in a snowstorm and heavy rain storms. The hard rain shell came through with flying colors in every condition.
Never again will I doubt the quality of Hi-Tec and will definitely buy their products in the future.
Pros
Cons
Waterproof Hard to get to underarm zipper
Windproof No mesh in the vents
Lite weight
·
5.10 Canyoneer
This shoe undeniably has the best traction of any shoe designed for canyoneering or river walking. That is attributed to the stealth rubber used on the sole. For those of you who are unaware of stealth rubber let me break it down for you. 5.10 is a rock climbing Shoe Company first and foremost. They do dabble in all sorts of other shoes, but their specialized stealth rubber is in my opinion the best option for sticking to walls of any geological making. It is this rubber that makes the shoe great. That being said there can be several down falls to this boot.
I worked in a rental shop and the 5.10 Canyoneer was the first shoe we ever rented. As a matter of fact it was the only shoe any outfitter in Springdale, Utah (Zion) carried. From my understanding of the Canyoneer it was developed with assistance from a local outfitter specifically for the hike in The Narrows of Zion National Park. The shoe is basically an upgraded version of the 5.10 Water Tennie. It has a reinforced heal and they use straps with buckles instead of laces.
The major benefits to this shoe beside the rubber is the heal, which is highly re-enforced with rubber for greater support and also protects the back of the foot from rolling rocks. Besides the fact that these look like something you would wear in space they are all around great for the sport of canyoneering especially here in Southern Utah.
The boot comes equipped with a high abrasion mesh which keeps the boot lite weight and allows water to flow in and out freely. They also have a small drain in the side which really helps get the water out as soon as you get out of the drink.
I have worn the Canyoneer in both wet and dry canyons and they perform exactly as they were meant to. Before I proceed let me explain that my personal shoes which have been used about 50 times have a few minor blemishes and scratches. The rentals we carry in the shop are a different story. I believe this is due to being in the water all day then being on a dryer all night then back in the water day in and day out, so keep that in mind.
There is a rubber rand that goes from the toe to (depending on the model) ¼ to ½ way around the boot. For some reason these like to feel up with sand. Once the sand is in there and dries it becomes like cement which becomes quite uncomfortable. The only way to remedy this that I have found is to cut the rubber at the seam where it meets the mesh, drain it out and close the hole with aqua seal. Another issue is the glue used for the sole. I have seen a few pair lose the bottom layer of the sole and have seen the heel separate from the boot completely. This can be remedied with some barge cement and/or aqua seal.
There are a few spots on the inside where sand likes to hide. The one of most concern is the foot bed. The foot bed appears to be made of a cardboard composite which once wet is prone to getting sand beneath it. As a rental I have seen these get bulges of sand in the toe area and arch. I have also seen the foot bed split open. Again this may be due to constantly being wet than dried.
From my standpoint, despite the problems this is a great canyon shoe and the best advice I can give is this. To rent they run about $20 to buy they are $120-$160 if you are going to do more than 5 canyons or river walks in your life they are worth having. Buy some aqua seal when you near your 20th trip. For some reason the size 8 and 8.5 have the most problems which just so happens to be my size, but on my personal shoes I have had no issue. Maybe people that rent don't know how to walk.
Pros
Cons
Stealth Rubber Too many sand traps
Comfortable Glued on sole, peels off around toe and heel
Lightweight
water drains well
Adidas Hydropro
I had the opportunity last year to demo the Adidas Hydro Pro canyoneering shoe. With a price tag of $175 there was no way this bargain shopper was going to throw down that kind of money for a canyon shoe. I already owned some 5.10 canyoneers and was quite happy with how they preform here in the desert. On top of that, the Hydro pro was not designed with us Southern Utah, Navajo Sandstone, loving canyoneers in mind. So when I had the chance to test them out for nothing I jumped in those shoes quick.

The shoe weighs a mere 580g (1.2 lbs.) which I think is pretty lite for a well-constructed boot. They use Zeta- Thread which is a wet and abrasion resistant thread. A high abrasion rubber covers from the top of the toe all the way to the upper heel. They defiantly came through on an abrasion resistant boot. There is a quick lace system and a zippered covered to protect the lace system. To top it off there is a Velcro ankle support strap.
The tread system used is called Traxion. They used different tread patterns to try and provide for different conditions and foot placement in different conditions such as going downhill or slippery surfaces. The inner is constructed of Adida-prene, a proprietary neoprene. There is a removable sock liner and the insole is quite stiff and waterproof which helps keep its shape and comfort in water.


The best place I could think of to drag these through was The Narrows in Zion National Park. The walk to The Narrows is a paved mile long path. The Hydro Pros were very comfortable, more so than my normal canyon shoe. I left early in the morning as I knew that the shoe would keep my feet warmer than I wanted them, due to the Adida-prene


While this shoe had great grip on the sand mud and concrete they were a little slippery walking on the mossy river rock. However they are constructed with good ankle support so there is no need to worry about rolling an ankle. I have bad ankles from years of skateboarding so ankle support is always a huge concern for me.
After 2 hours of walking in water it was time to really test them out by climbing a sandstone boulder. I stopped at Floating Rock in the Narrows for lunch. I slipped a little on the climb up with wet rubber soles but on the way down with dry rubber the grip had improved. Having a better feel of how the shoe preformed I was able to move a little faster on the return trip. Due to the lack of drains in the shoe and the large quantity of Adida-prene the paved riverside walk was a little uncomfortable. After a half day of walking in water the extra weight in the shoe from the un-drainable water was a little unpleasant and would definitely get annoying on a long hike


After this initial test I found it wise to test on a couple canyoneering routes. I am overall happy with the shoe in its intended environment; water. I would advise against using these in dry canyons, or long hikes after being in water. The zipper tends to get jammed up when it meets sand; Using McNett Zipper Tech will help with this issue.


I have taken this boot on two trips through the Zion Narrow, 5 wet canyons, 1 dry canyon and a couple early morning hikes in Zion national park. The only major issue has been keeping the sand out of the zipper. We now carry this boot at
Zion Outfitter
a rental shop I work for. Everybody I have talked to about their experiences have loved this boot the majority has stated that the traction is better than their normal hiking shoe; they were comfortable and loved the ankle support. I conclude from this that if you have never used a shoe with stealth rubber you will love the hydro pro. Everyone I have spoken with that has used the Hydro Pro all had the same 3 complaints no drains, not as grippy as stealth rubber, and the zipper jams. Besides that they are a great canyon boot.
We have been renting these for about 6 months now and have not had any problem with the construction, beside one zipper jam that resulted in a broken zipper. There has been no issue with them coming un-stitched and the thread is still holding up well. When we ordered in new boots it was hard to tell which ones were old and which ones are new they hold their color well and has very little abrasion.
Pros Cons
Light when dry No drains for water
The adida-prene assist with foot warmth Too hot to wear in dry canyon
Good traction in mud, sand and dry rocks Zipper and quick lace system in sand
Abrasion resistance Bon Jovi (Slippery when wet)
Look new even after months of hard usage Zipper protector fills with san and pebbles
Columbia Cool Creek pants
I bought these pants as a layer for winter camping, skiing and snowshoeing. I have owned them for about 5 months and the only issue I have had so far is the button pops open from time to time when I bend over or squat. This was not an issue when I first bought the pants, so I am unsure if the popping is due to the amount of use or my winter beer belly.
The pants are made of nylon and spandex which makes them vary maneuverable in all situations. They come equipped with Omni-Shield and Omni-Shade. The Omni-shade is a UPF 50 sun protection and the Omni-Shield resists light rain and stains. These pants dry quick and I have yet to stain them so it must work.
The pants include a zip pocket on the outer thigh and the back pockets vecro shut. The design of the front pocket makes it easy for change to escape while sitting and my pocket knife does not stay attached well.
Beyond those issues these pants are great. I like the way they feel and the durability of the nylon. I have recently been using these pants as a layer under my dry suit while canyoneering and they perform well and assist with keeping me warm. I use these pants at least 2 times a week. They have become my main outdoor pant and I intend to purchase more. On a more personal note my wife loves the way they fit me and if she had it her way this is all I would wear.
Pros
Durable
Warm
Quick dry
Comfortable
Crazy Creek Crazy Crib
I am a lover of hammocks! Why sleep on the ground if you don't have too? I purchased my Crazy Crib last fall at a thrift store for only $4 it had no rips, tears, stains Etc.… In fact it appeared to be brand new. I have owned 4 hammocks and this one by far is my favorite hammock for dry summer, bug free situations. That being said this would not be a good choice during peak mosquito season or heavy rains. They do however have a hammock that will cover you in those conditions.
Maybe this summer I'll have to try their other hammock out, any who. The crib is easy to hang. The straps wrap around the tree and clasp through a buckle, it takes me roughly one minute to hang and level out the crib.I have also used the hammock as a ground cloth in the desert when no trees were available. I just slipped my
Crazy Creek Hex 2.0 Powerlounge
r inside it to help with insulation and slept like a baby.
This is a simple lite weight hammock that would be perfect for hanging in the backyard or around camp. You can even crawl inside it and stay dry in a lite rainstorm. In a heavy downpour run for your car or come prepared with a tarp. The packed weight is 23oz which makes it a good lightweight hammock for summer. It is made from 70D coated nylon.
Pros Cons
Lightweight No bug netting
Packable Rain cover not included
Easy to hang Does not slip and harm trees
GSI Haulite Mimimalist
I have recently discovered that I am no longer the young guy who can haul 80lbs in his pack for a weeklong adventure. Therefore I have started downsizing on gear trying to find a way to make my adventures a little more pleasant. My first ultra-lite purchase was the Haulite Minimalist cook set. This cook set was a good idea, but I think I have the wrong stove to compliment this cook set.
This set weighs only 6.3 oz. it stands 4.6 inches tall and is 4.2 wide. It comes with a telescoping foon/spork, a silicone magnetic gripper that only takes two fingers to use, a lightweight insulating sleeve, and a sipper lid. The lid can be flipped upside down to assist with faster boiling times or you can use it up right to sip you coffee or tea.
Haulite is super lightweight and distributes the heat evenly. The size is perfect for cooking Rice-a-Roni or similar type meals. This makes it the perfect cook set for 1 man cooking. The material used is abrasion resistant and is easily cleaned with sand or snow. With this system you have a bowl, cup and pot all in one.
While the telescoping fork was a great idea you have to be very gentle with them or the foon will slide right of the track. The track itself breaks pretty easily. If you're rough on gear like I am I suggest leaving the foon at home.
The diameter is barely too small to accommodate my MSR Whisper lite. It will work if you are super careful but the slightest bump can leave you food all over the ground.
Conclusion
I would highly recommend this set if you have the right stove. I would imagine it would work great with most canister type, or alcohol stoves. It cooks fast and evenly. The insulating is a great bonus feature for sipping on cocoa in the middle of winter. My only real complaint would be the foon. I actually liked the idea of the telescoping foon so much that after I broke the first one I ordered another and tried too be really careful, but I have come to the conclusion I am hard on gear and that is to fragile of a system to be in my hands.
Pros
Cons
Lightweight Does not fit all stoves
Abrasion Resistance Telescoping foon/spork is fragile
Lid for sipping
Insulating sleeve
Teva Mush
I have now owned the Mush for about a year and have no complaints. They are still holding strong, though the tread is starting to wear around the heel and big toe. No odor has yet to emerge from the foot bed.
I bought these while working in the Zion Canyon Village. I was visiting the village for the day and I stubbed my foot on some uneven concrete. When this happened it caused the webbing to separate off the sole of my previous pair of Tevas. I cannot remember what model my old ones were, but they lasted about a year and took some pretty hefty abuse.
The price is right, at only $25 you can't go wrong with a pair of flip flops; especially if they last more than 6 months. My foot molded to the sole in just a couple days and the tread has held up pretty well considering what I have put them through. I am unsure of the weight but they are very light and hardly noticeable. I have nothing bad to say about the Mush and they are far more comfortable than other flops and sandals I have tried.
I have worn these on numerous mild trails in Zion National Park, I wear them pretty much every were I go including around the house. I have pretty sensitive feet and walking barefoot on hard surfaces in my home sucked before I discovered Teva. The ultimate test of durability for me was using them as an approach shoe for canyoneering in Zion. The tread grips well to sandstone, though my foot did slip out a couple times on steep hikes.
Pros
Durable
No odor
Comfortable
Aqua Wet/Dry Backpack
The overall feel of the backpack is great. I really like the idea behind it, but It could be improved with a more abrasion resistant material. I had the opportunity to try this pack out in Pine Creek Canyon in Zion National Park and Zion Narrows. It worked good for a day hike and some floating in the Narrows. The bag was given to me to test out for the shop I manage, by the shop owner. We rent these bags for day hikes In Zion Narrows and they work good for that purpose
This is a 25 liter backpack made from 210D PU-Coated Fabric, it has taped inner seams to assist with leakage. The bag is very lightweight at only 20.5oz / 580g, it has two outer mesh pockets that will hold a 32 ounce water bottle. There is a waist and sternum straps which helps hold the bag firmly to your body. The interior contains a drybag pouch for cameras, wallets ect.. There is a Velcro pocket against your back on the outside which can hold a water bladder.
This is a very comfortable pack that has great back support and I really like the idea of being able to have a water bladder on the outside of a dry bag. That was one of the main reasons I had an interest in this pack. The other reason I liked it was the interior dry bag. If you puncture the backpack itself the inner dry bag will keep your camera safe.
I read other reviews saying these bags are great for canyons and they may be, but they are not good for canyoneering. The sandstone ate through a few places on the bottom of the bag. A stick in a log jam also punctured the bag pretty easily. This happened on the bags first trip through a mile long canyoneering route. You can see in the picture below a few minor abrasions and the area I had to Aquaseal.
Another minor issues is the depth of the water bottle pockets. They are super deep so your bottle won't fall out, but it is hard to reach your water while wearing the bag.
This bag would be great on river trips, hiking in the rain/snow or light play in the river. Do not use it for a canyoneering bag. I have aqua -sealed the puncture and abrasions in mine and re-taped a seam. I will probably just use this bag for rainy day hike and bike trips.
Pros
Cons
Interior dry bag Easily punctured
Comfortable Water bottle pockets are too deep