Summary
The image quality of this camera is comparable too and possibly even better than what you would get from other 1080P video cameras. I liked the camera, but have a bad taste in my mouth about the company due to their lack of customer service skills.
Pros
Image quality
Easy usage
Sound quality
Sturdy outer construction
Cons
Accessories use adhesive instead of suction
Flimsy battery cover
Battery life
Horrible Customer Service
I got my Contour camera as a Valentine's gift from my wife almost 2 years ago. I had spent a great deal of time debating whether to get a
GoPro
or a Contour. I found a sweet deal on a Contour that had been used as a display at a retailer. So that became one of the deciding factor on the purchase.
Before I get too involved in this review I just want to clarify that I was unaware of the condition of the camera before I received it. I'm not sure if it was used, refurbished, or if it truly was taken out of the box and put in a display case.
Right off the bat I was a little disappointed with the battery life, it would last about one and a half hours before needing to be charged. I bought a couple knockoff brand batteries from Amazon which might have been a bad decision as I am currently trying to figure out if the batteries are bad or if the wiring inside the camera is loose, because I am unable to get the batteries to recharge. The original Contour battery that came with the camera quit holding a charge after 8 months of use.
The video quality was definitely comparable to my friends' GoPros. Some of videos I shot, I thought the quality was a lot better than GoPros. I used this camera on backcountry ski expeditions, snowshoe treks, canyoneering, mountain biking and hiking trips. My daughter even stole it a couple times to make videos of tea parties and songs/dances she came up with.
I bought a helmet attachment which was basically a circular plate with adhesive tape you could stick to your helmet. I must have mounted it a little too far back on my helmet because I always ended up with footage of my helmet. Once you mount this helmet disk it cannot be removed, so you have to buy several of these disks and mount them in different locations on your helmet, dashboard, snowboard, etc... From watching my friends use their camera accessories, the suction cup method seems a better solution for an attachment.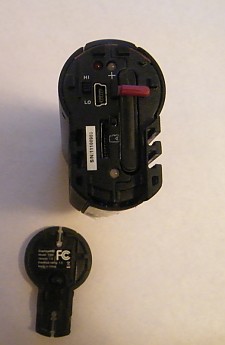 Besides my current battery issue the only other problem is with the battery cover. The cover is held on by 2 rubber "clips" that slide inside the camera body. One of the rubber attachments broke after a year of use and would cause the cover to not seal properly. Since the company was out of business I was unable to send it in for repairs. Due to that, I just cut the two attachment points off and was just very careful not to lose the cover while charging batteries.
A few things I really enjoy about Contour besides the picture quality are the laser. You know where you are shooting due to the lasers and you also know your camera is on. I always love watching the YouTube videos of people with their GoPro in their face saying "is this thing on?" I'm glad I don't have that problem. I also enjoy that the camera lens can be rotated, this way you can lay the camera on its side and not have a sideways or upside down video.
The downside to Contour is their customer service. I recently ordered a new battery and charger, but the issue turned out to be the camera not the battery. I sent the battery, charger and camera back to contour. A month later I still had not received my refund or heard any news about my camera. I wrote customer service and they could not find the package. They tried to put the ball in my court for them not receiving the package. Long story short I finally received the refund on the battery and charger after many e-mails, but received no word on the issue with my camera. A couple weeks later I wrote again and asked what the issue was with my camera they replied It cannot be fixed. They did not ask if I wanted the camera back or if they should throw it away.
I would think that a company would want to keep loyal customers, but that does not seem to be the case with contour. Their customer service skills make me wonder why they went out of business the first time. A simple e-mail or phone call to let me know the condition of my camera would have been a nice gesture. A customer should not have to repeatedly bother a company over a two month period to get a refund and find out if their camera is worth fixing.....Blah, Blah, Blah, I'm buying a GoPro